Scam email targets Apple App Store developers, tries to steal Apple ID password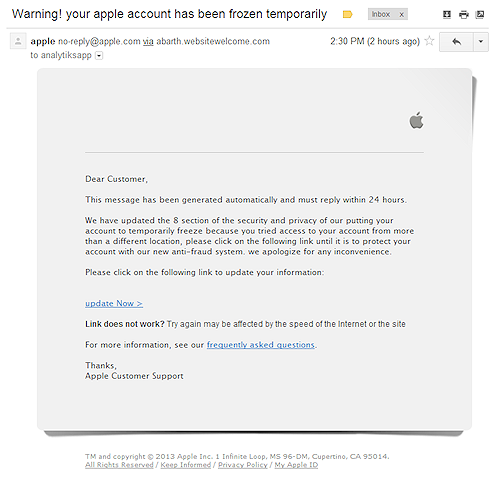 A scam email is spreading around targeting App Store developers. At a quick glance it looks legit, especially if you check the email from the iPhone or iPad.
The emails "warns" Apple App Store developers that their Apple account has been frozen temporarily and immediate action is required. As expected the email asks for a (fake) update to the Apple ID account. This is where the scam part starts. This is not an email coming from Apple, neither the link points to any Apple related website for developers.
The scam is quite smart, matching emails with apps available on the App Store. We received this email to an email account linked to Analytiks app
Scam emails "warns" Apple App Store developers that apple account has been frozen temporarily
What's interesting is that the emails uses a mix of legit Apple links and links to phishing sites. The email text is as follows.
===========================
Dear Customer,
This message has been generated automatically and must reply within 24 hours.
We have updated the 8 section of the security and privacy of our putting your account to temporarily freeze because you tried access to your account from more than a different location, please click on the following link until it is to protect your account with our new anti-fraud system. we apologize for any inconvenience.
Please click on the following link to update your information:
update Now > [SCAM LINK]
Link does not work? Try again may be affected by the speed of the Internet or the site
For more information, see our frequently asked questions. [LEGIT LINK]
Thanks,
Apple Customer Support
===========================
Here's a full image screenshot of the scam email.