Lifesum Review. Track & Improve Lifestyle. Don't Just Count Calories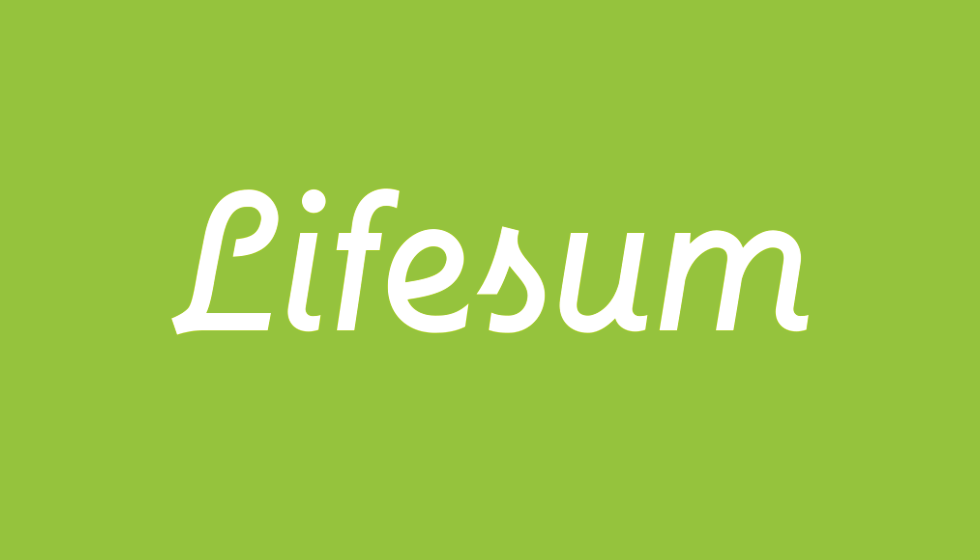 Lifesum is the app you need for lifestyle and food tracking. Forget calories and food for a minute. Think your weight, what you eat, your workouts and your well being. Lifesum is a fitness app always available in your pocket and soon your wrist.
The Ultimate Lifesum Review For iPhone
The latest Lifesum app update for iPhone (4.4.15) brings support the Apple Watch. It's a great new addition to the app and the healthy lifestyle we all strive for. Unfortunately due to Apple Watch limited production and availability, testing and reviewing the Apple Watch Lifesum App isn't possible right now.
We are what we eat. There is plently of evidence and scientific research to support this claim. Lifesum approach uses science and aims to help you optimize your lifestyle. The idea is to have a proper diet and workouts tailored to your goals. It's a powerful idea. It goes beyond calories tracker apps.
The Lifesum app is available for free. You start with the standard healthy diet for free. The calories counter is always free. If you want more diets you have to pay. The available paid diets include:
The 5:2 diet for fasting 2 days a week
The LCHF diet for eating fat and losing weight
The high protein diet for building and maintaining muscle
The update to Gold membership costs $35.99 for a 12 months plan or $14.99 for 3 months. There is one more option available, the most expensive one. 1 month Gold membership for $6.99. Updating to Gold Member offers more than just extra diets.
Fitness Apps Integration. Withings, Fitbit, Runkeeper
Lifesum will fetch data from your favorite fitness apps and count them as activity. Lifesum supports Withings, Moves, Runkeeper, Fitbit, Jawbone, Google Fit and Apple Health. What that means is that the Lifesum app will automatically import data such from these apps. Steps, activity, weight, body fat, body mass and more. The idea is simple. Do that you do with your Runkeeper and Fitbit. Lifesum will take care the rest for you. No action required.
Extra Diets Information
You get to know more info about the food you eat. The free version shows protein, carbs and fat information only. With the Gold Member upgrade you get to know more info about the food. More important information that is. Carbs are broken down to fiber and sugars. Fats are separated to saturated and unsaturated. Cholesterol, sodium and potassium data as also added to the mix.
Body Composition And Progress
With data from fitness apps and smart scales, Lifesum paid version knows more about your body composition. Body fat percentage, muscle mass, your BMI and even comparison results. The idea is to keep the users motivated with real life feedback. If you have a Withings Wireless Scale, Withings Smart Body Analyzer or Fitbit Aria Smart Scale you need this feature.
Lifesum Lifestyle Stats And Life Habits
Lifesum knows what you eat, when you exercise and what your workouts are. Gold Membership provides an overview and stats for your lifestyle. The goal is to "make more informed decisions about your food and activity".
Improved Navigation
The paid version of the app will offer "simple swipe right" to help you add information easier. Add regular meals and exercises to your diary for effortless updates.
How To Add Food And Count Calories To Lifesum
There are two ways to add food to Lifesume. Both need manual action and both work well.
The first one is to search for food. Lifesum data base is big and offers a great variety of foods. From bread and butter with salt to rib eye steaks and foie gras. Whatever you choose you have to tell Lifesum how much you had. The default portion size follow standard serving size but are not always the best. For example a 100g steak it's a tiny steak. That said, Lifesum goes one step further with smart suggestions. Salmon fillet is listed as 100g portion but Lifesum also offers more options. CHoose between the 76.9g standard serving or input the exact weight of your salmon fillet in grams.
[pullquote]BARCODE SCANNER IS SUPER FAST[/pullquote]
The other option is to scan barcodes on food packages. Lifesum does a great job here. Scanning a barcode is super fast. It even works while the iPhone camera tries to focus. Amazing. Again the app tries to make intelligent suggestions for portion size but sometimes it fails.
There are two ways to add food and keep track of your calories. By tapping on the plus arrow on the top left corner or tap on the plus sign next to each food category. Eg Breakfast, Lunch, Snacks, Dinner.
Lifesum food data base lives on the cloud. That means you need to have access to the internet to add food.
How To Add Exercise And Workouts To Lifesum
The idea here is similar. You add exercises the same way you add food. Tap on the big plus sign on the top left corner or the plus sign next to the exercise section. Search and add your workout. Lifesum supports a variety of workouts and activities. From walking to power yoga, running to bodybump and of course sex. The data base is huge. You get caloric information about frisbee playing and sex foreplay but not for anaerobic exercises. There is no information available for weight lifting, sprints or squats.
How To Add And Track Water Consumption
Lifesum does a great job with water tracking. The process is easy and intuitive. Just tap on the empty glass. Lifesums automatically fills it up for you with a beautiful animation. You can track water glasses or water bottles consumption. The app also offers water tips and explains in a beautiful way why staying hydrated is important. Drinking enough water during the day improves mood, cognitive performance, energy levels. It also helps with fat loss and digestion issues.
The Lifesum Me Is All About You And Lifesum And You And Confusion
While adding data to Lifesum, food and exercise, is straight forward the rest of the app isn't. Welcome to the Me tab. This is your Lifesume profile page in the app. Weight tracker and daily activity is available on the free version. Also available are some information about Body, Lifestyle stats and My Things.
The Me tab is where the Lifesum experience jumps from almost intuitive to it can get a lot better. Body and Lifestyle buttons reveal stats about body composition, exercise, calorie and water intake in a calendar view. You get aggregated information for the last week, 1 months, 3 months etc.
[pullquote align="right"]MY THINGS IS FOR HARDCORE FITNESS GYM JUNKIES[/pullquote]
My Things is Lifesum's editor to create your own meals, recipes and exercises. It feels like another app within Lifesum app. It's a food compositor for hardcore fitness people. It provides great flexibility but comes with a cost. Many extra steps and laborious data entry. It feels like completing questionnaires or taking part in a survey. Lifesum's simplicity and speed don't apply here.
Hidden deep down inside Lifesum's Me settings lies the Lifesum Motion Tracking feature. It uses the iPhone's accelerometer and Apple's Health data to track daily activity. The activity tracking is deactivated by default which is strange.
Lifesum Gold Membership Upgrade Second Thoughts
I want to pay for Lifesum. I really do. The extra information is tempting. The integration with third party fitness apps sounds magical. The new diets are interesting. Still i'm not convinced because i'm confused.
Will Lifesum's paid high protein diet provide daily meals suggestions or not? Will i get extra information about calories burnt during anaerobic exercises? Does Apple Watch integration means that Lifesum will count my heart rate too? Why do i have to pay for improved navigation and UX? Why is the default motion and activity tracking disabled my default?
I know a Fitbit does a better job at daily activity tracking but still iPhone's M7 and M8 motion coprocessor data are good.
Food Tracking Through Lifesum UI and UX Review
The app is well thought and designed but there is still room for improvement. In obvious ways. By no means Lifesum is bad or ugly. Quiet the opposite. The app has beautiful animations and transitions, it's speedy with a high contrast design. It's intuitive but also cumbersome.
Adding food and tracking calories and exercises is easy. Just tap on the big plus sign on the top left corner. For some reason, Lifesum decided to duplicate this great UX with the addition of the plus sign button next to each food category and exercise.
The Me tab design doesn't match the overall app quality. It feels like it was created in a day. The clarity and beauty of the Dairy tab is absent in the Me tab. The boring, uninteresting design trend continues. The Diets tab looks simplistic to say the least. After tapping on a diet the view is completely different. Beautiful graphics, photos and text. The design language and aesthetics are completely different. The Upgrade tab share the same design logic.
Other annoyances include lack of controls for closing menus and windows. No automatic refresh for added dinners via barcode scanning. Confusing buttons for revealing caloric information. The frustrating right swipe who deserves to be paid etc.
Lifesum is a good app but it can be great. It just needs some tweaks and improvements. It provides tons of functionality for free but it doesn't convince for the upgrade. I will probably pay for it just to give it a try but still. There is much left to be done.
Note this is a review of Lifesum as an iOS app. Another review of Lifesum as a Lifestyle tracker is on its way.
[cta id='1469′]
Lifesum VS MyFitnessPal
It's only natural and healthy to compare Lifesum to MyFitnessPal. Both apps promise to help you count calories and track your diet. The goal is to make you more healthy. Lose fat and achieve your weight goals. Be more fit and healthy. Still their approach is different.
Lifesum focuses on lifestyle choices. The app is built around the concept of personal goals. Who do you want to be? A fast runner, a lean mean muscle machine, a healthy person? Lifesum app design is overall much better.
MyFitnessPal follows a similar approach but advertises itself differently. In MyFitnessPal app everything is about food tracking, data, graphs and numbers. The design feels very outdated too.
Between Lifesum and MyFitnessPal i recommend Lifesum for sure. The app is focusing on the right problem, the right way. Still, feel free to try MyFitnessPal too. Both apps are free to download and use.
Apple Watch Lifesum App
Lifesum is now available on the Apple Watch. The fitness and calorie tracking capabilities are now available on your wrist. You can download the Apple Watch Lifesum App and give it a try.
Due to Apple Watch limited availability i couldn't review Lifesum on Apple Watch. We have to wait until Apple ramps up Apple Watch production. Till then you can use Lifesum on the iPhone and the Apple Watch but without any solid review from this article.